Every time I had someone come to visit with limited time, I had to recommend the Robot Restaurant
I spent 3 years living in Japan and during my time there I was able to fully embrace the culture.
Robot Restaurant embodied everything that I loved about Tokyo. Flashing lights, loud music and over the top theatrics that can't be seen anywhere else in the world. First, let me start off with a quick heads up. Although it's called the Robot Restaurant, it's not dinner and a show. You can order something like a lunch box of cold food or some expensive beef but I wouldn't recommend it. You'll pass by so many great food spots to get to the show, you should purchase your tickets online and eat before going to the show.
Located a few minutes away from the Shinjuku station, you'll head towards the loud music and lively characters. You will see signs and characters ushering tourists to the ticket pick up area. You need to be there 30 minutes early or you'll lose your reservation. Once you receive your tickets, you are directed to another building where the actual show will take place.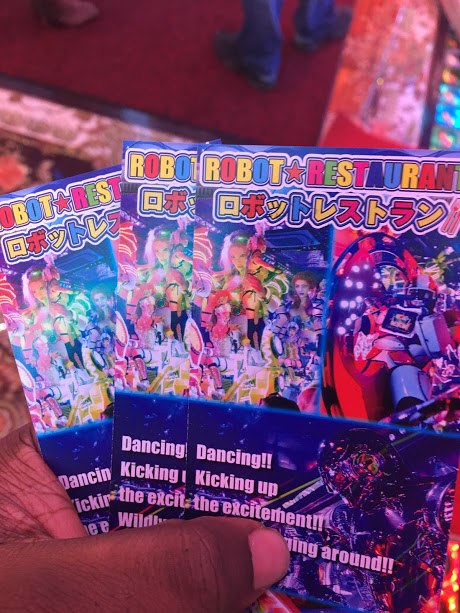 If you're expecting mechs like Gundam and lot's of robots you'll be disappointed but if you show up expecting an all-out show, it's an unforgettable time.
The stage is narrow and small. You're within arms reach of the performers and it makes the experience very personal and that much better.
It's definitely a psychedelic experience that has all the craziness that Tokyo has to offer. Come prepared to spend money because tickets, souvenirs, and drinks are expensive!
If you ever make a trip to Tokyo, Japan, please make an effort to stop by the Robot Restaurant. You won't regret it.
Another heads up! I went to the Robot Restaurant in 2015 so please excuse the quality of the images. If you have any questions about the show like if you should bring children with you or meet and greet options, shoot me a message or leave me a comment.
This post contains affiliate links. For more information check out our disclosure policy.
(Visited 1 times, 1 visits today)