The RAVPower Travel Router fits right into the Fly Gear setup as once again a jack of all trade device that makes travel easier.
Fly Gear is supposed to make traveling lightweight and easy. To do this all the products need to solve multiple problems and the RavPower Travel Router solves several.
When traveling I'm sure you've run into a hotel without wifi and only have a wired connection. You might even run into a hotel with wifi but you need to login to use. Making it very difficult to use devices like a Nintendo Switch or Google Chromecast. Here's where the RAVPower Travel Router comes in! With the travel router, you're able to make a wired connection that you would typically find in a hotel room and turn it into your own personal wifi hotspot.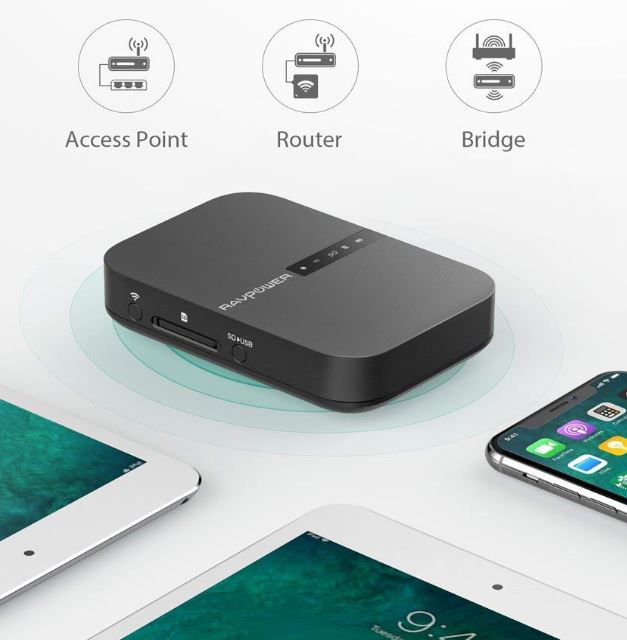 Just based off that one feature was enough for the RAVPower Travel Router to join the ranks with Logitech Wireless Keyboard but wait there's more! You can also take a wifi signal like the hotels and repeat it under your own wifi name. The convenience is crazy! I'm able to get my Chromecast to work in my hotel room and all my other devices without a lot of hassle each time. There's also a ton of other great features that just makes this thing a must-have.
RAVPower Features
[Wireless Data Transfer and Backup Anywhere] Connect SD cards, portable hard drive, SSD wirelessly to your devices (Phone, iPad, iPad Pro, Tablet, Laptop) for not only stream music, photos, videos, browse documents but also transfer files mutually between SD Card, SSD/HDD and your device.(Must hold the power button for 5s until wifi LED light on to turn on filehub)
[AC750 Wireless Travel Router] Upgraded with 300Mbps Wi-Fi speed on 2.4GHz band and up to 433 Mbps on 5GHz. Instantly convert a wired network to private and share Internet access with multiple Wi-Fi devices via AP Mode/Router Mode/Bridge(Not Support VPN )
[One Key Backup] Upload your SD card-stored photos or video to your hard disk or flash drive easily with 12-18 MB/s on Data Transfer Speed without computer. (Must hold the power button for 5s until wifi LED light on to turn on filehub)
[Media Share & Personal Cloud] Seamlessly share with your families, friends and stream your videos, photos, and music on your connected smartphones, tablets, TVs, media players, Chromecast, Roku, and other DLNA devices, via App or Web.(5 device allowed)
[Wireless Free Up Your Devices' Storage] Automatically back up your latest photos and videos to attached SD Card or HDD directly through our RAVPower FileHub via in-app camera. (Please make sure you have connect the wifi of RP-WD009 in 10 metres)
Purchase the RAVPower Travel Router
This post contains affiliate links. For more information check out our disclosure policy.