With the introduction of new Disney MagicBand upgrades, we should probably discuss a little bit about what a MagicBand is and why these upgrades are exciting for those who are looking to enjoy the full Disney experience.
What Is A Disney MagicBand?
The Disney MagicBand is a wristwatch that's much more than that. It's an all-in-one device that allows you to travel light while experiencing the vacation of a lifetime.
The MagicBand can help you buy food, drinks, and merchandise. On top of this, the MagicBand can act as a hotel room key, and you can use it to get into the different parks.
You'll also receive FastPass + access which allows you to easily experience all of the different options that you've chosen online.
The Disney MagicBand plus your My Disney Experience profile will help customize your journey, personalizing fun and unexpected surprise.
How Do You Use A MagicBand?
Disney's MagicBands are simple to use. For the most part, it's as simple as a tap. You'll have to enter a PIN number to ensure that not just anyone is using your MagicBand. They don't have an on or off switch they run solely with the help of Radio Frequencies.
If you lose your Disney MagicBand quickly deactivate it on your My Disney Experience Profile.
What Are The New Disney MagicBand Upgrades?
You can check your My Disney Experience profile to see the new upgraded MagicBands. Before you only had a limited selection of solid color MagicBands. Now with the new upgrade, your choices have increased to over 30 choices, featuring your favorite characters and designs at a cheap price.
New paid options have been added as well. There used to be 43 different options and now there are more which cost between $10-$20.
Different customizable options include different Mickey MagicBands, as well as Marvel Superheroes like Captain America, and the evil villain Thanos. You'll also find different Star Wars options as well.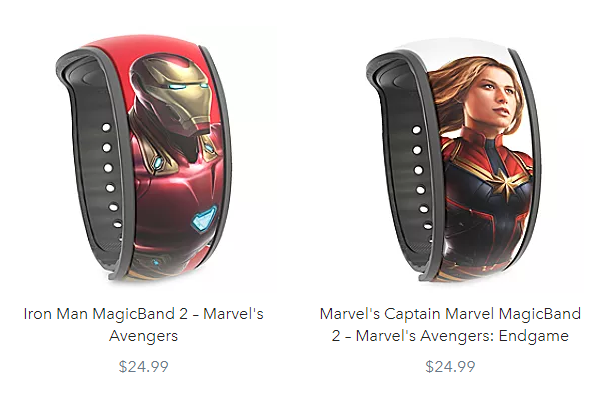 While there are several new options available, inventory is constantly fluctuating. Just because you see a new design one time that you visit, doesn't guarantee that it will be there the next time.
Since the system is new, there are still glitches that need to be ironed out. If you're having any sorts of problems with the system, try using My Disney Experience on your desktop rather than using the app on your phone.
How Do You Upgrade Your MagicBand?
First, you're going to have to click the "My MagicBands And Cards" link on DisneyWorld.com or if you've already made a reservation you can just click on "Choose MagicBands".
Then you can click "Select" on the following screen. This should bring you to a page filled with pictures of all of the available upgraded MagicBand designs.
Then once you select the MagicBand that you want to purchase, you'll find yourself at the "Complete Your Purchase" screen. For anyone who has ordered online, this part is pretty self-explanatory.
Enter in your address, name, banking information and if the system is up and running, they'll ship your new and improved MagicBand.
Most of the time they will arrive at your home two weeks before you're set to take off to the wonderful world of Disney.
What Are Your Thoughts On New Upgraded MagicBands?
What do you think of the almost 40 new customized MagicBands? Does the idea of having some of your favorite Disney characters on your MagicBand excite you? Darth Vader, Captain America, Elsa, Olaf, Aladdin, Buzz, Woody, and so many more of your favorite cartoon pals.
Is paying a $10 to $20 premium worth it, or are you fine with the original plain one that you've likely used at other Disney World Vacations?
Well however you're feeling, it might be a cool idea to invest one if you travel to Orlando often. Stay tuned and consistently check out the different options that are available. You might not see one that you love right now, but that could change quickly.
This post contains affiliate links. For more information check out our disclosure policy.